This salad has become a warm-weather favorite! It's easily adaptable and a great way to incorporate the best your local farmer's market has to offer. Here, we've used our favorite local radishes, cucumbers, and basil with jicama and pineapple for a winning combination. Try it and let us know what you think!
INGREDIENTS
For the Salad:
1 bunch radishes
1 cucumber
1 medium jicama
1 cup fresh pineapple
1 bunch fresh basil, chopped into thin ribbons
Dressing:
1 avocado
1/2 shallot, roughly chopped
1/4 cup Fage 0% Greek Yogurt
1 tbs maple syrup
1 tbs apple cider vinegar
1 lime, zest and juice (reserve zest for garnish)
salt and pepper to taste
DIRECTIONS
Combine avocado, shallot, yogurt, maple syrup, vinegar, lime juice, salt and pepper in a food processor and process until creamy. Set aside.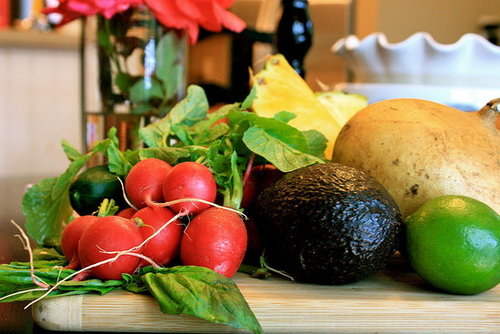 Quarter and thinly slice radishes and cucumber. Peel and dice jicama and pineapple. Combine veggies and fruit, toss with dressing, chopped basil, and lime zest.