Mobilink Indigo

has relieved new

price package

of

Blackberry smartphones

. The latest bundle packages that offers Blackberry handsets with free monthly minutes, Free GPRS/SMS and other add-ons for 6 and 12 months. Keep reading for details!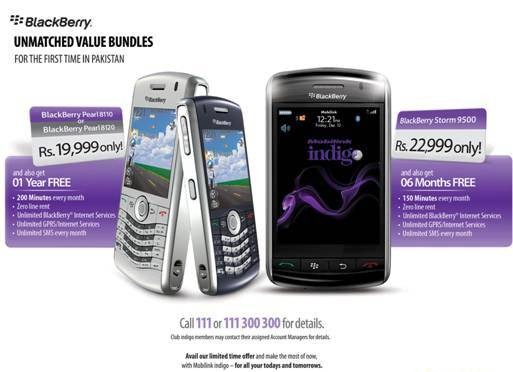 BlackBerry Storm 9500 Price Detail



Classy touchscreen BlackBerry Storm 9500 smartphone for only Rs.22,999 with the following value additions, FREE for 6 months!


150 minutes per month

Zero line rent

Unlimited BlackBerry Internet Services

Unlimited GPRS / Internet Services

Unlimited SMS every month
BlackBerry Pearl 8100 or 8120 Price Detail
This is not all, the sleek and stylish BlackBerry Pearl (8100 or 8120) smartphone is available for Rs.19,999 only, with the following value additions FREE for 1 whole year!
200 minutes / month

Zero line rent

Unlimited BlackBerry Internet Services

Unlimited GPRS / Internet Services

Unlimited SMS every month