Ingredient:



12 large hard-cooked eggs, peeled
1/4 to 1/3 cup Evaporated Lowfat 2% Milk
3 1/2 tablespoons light mayonnaise
2 teaspoons Dijon mustard
Salt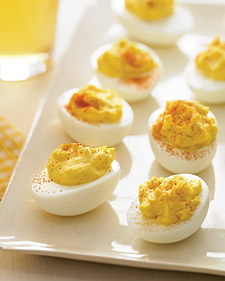 Preparation:



1. Cut eggs in half lengthwise. Remove yolks and place in medium bowl; mash well with fork or pastry blender. Add evaporated milk, mayonnaise and mustard. Stir until creamy. Season with salt.
2. Spoon or pipe into whites.